Do you enjoy reading great conspiracy books? If yes, then you're in for a treat.
Listed below in ascending numerical order you'll discover the very best conspiracy books revealing fresh, remarkable insights into the biggest and most intriguing conspiracies of all time, all with reviews which will give you an overview about what each title has to offer you. These books typically weave a web of secrets, mystery and intrigue, which can be as fascinating as it is maddening. If you have a penchant for conspiracies and convoluted theories, our guide to the top five best conspiracy books should provide a great read. Enjoy browsing through the list and see if any of them appeal to you.
The Best Conspiracy Books
1. American Conspiracies: Lies, Lies, and More Dirty Lies that the Government Tells Us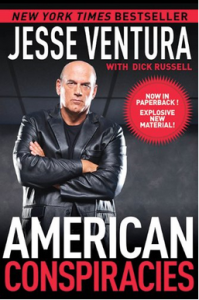 The best selling book at the top of our list is one written by a former elected governor, rather than a conspiracy theorist. Jesse Ventura, a former Navy SEAL, pro-wrestler and Minnesota governor, systematically delves into how the American government, politicians and mainstream press hide the truth about major events from the American people. Although Gov. Ventura doesn't believe the government or any other organization is part of a cabal of evildoers involved in various conspiracies, he demonstrates how the hypocritical forked-tongued government, establishment politicians and pundits have hidden the facts from the public about major historical events, including the murder of Abraham Lincoln, assassinations of Martin Luther King Jr. and the Kennedys, Watergate scandal, election of Gorge W. Bush, and the Global Financial Crisis.
2. Conspiracies and Secret Societies: The Complete Dossier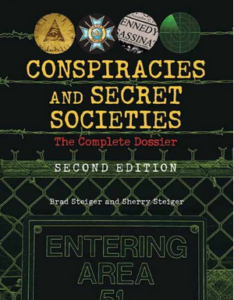 This book is the encyclopedia of conspiracies. It provides an explosive account of assassinations, missing witnesses, suppressed evidence and startling allegations. Essentially, the book offers thorough background information regarding over 240 individuals, organizations and historical events with unreliable official explanations, thus remaining shrouded in mystery. The writer looks into how the American history is full of warnings of hidden conspiracies perpetrated by various secret – and not so secret – organizations, including: Extra-Terrestrial Invaders, Secret Government, World Bankers, the Communists, the Roman Catholics, the Zionists, the Freemasons, the Illuminati, just to name a few. Each entry regarding these organizations presents revealing information as well as competing explanations for well-known controversies, historical riddles, conspiracies, and scientific mysteries. If you're looking for a comprehensive information resource on the biggest conspiracies and secret societies – both past and present, then look no further than this book.
3. History Decoded: The 10 Greatest Conspiracies of All Time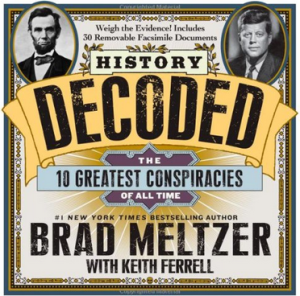 This text is essentially a countdown of the world's most intriguing conspiracy theories. Written by Brad Meltzer, a born storyteller and creator of the hit show, History Decoded – which he created for the History Channel, this richly-illustrated book takes the reader on an immersive journey through a treasure trove of information and evidence relating to "some of the greatest conspiracies". Much of this information is the one he has gathered for each episode of his TV series. It's presented in a countdown format, with each chapter portraying a conspiracy which Meltzer and his able team try to prove or disapprove using the historical evidence at hand. If you want to become a history or conspiracy buff, then this book can be a great starting point.
4. Hidden History: An Expose of Modern Crimes, Conspiracies, and Cover-Ups in American Politics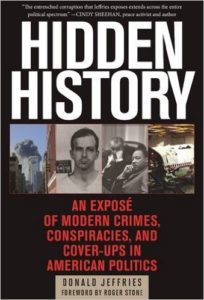 This compelling work provides gripping details and provides captivating information about how the United States government has spent half the time on conspiracy cover-ups at it has spent assisting the American people. In this book, much of how the government has spent the past five decades covering up the facts to the public will be revealed to you. You'll be surprised to find that the facts about every major historical event or war that we've witnessed have somehow been distorted by those in power. From the assassinations of MLK and RFK to the TWA Flight 800 and 9/11, you'll find thorough information regarding these disasters, as well as all the details that have been hidden to you by the US government over the past half a century.
5. The Mammoth Book of Cover-Ups: The 100 Most Terrifying Conspiracies of All Time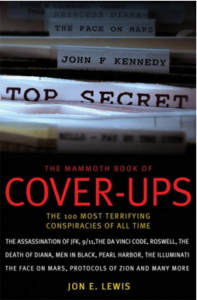 This is without a doubt one of the most comprehensive books on conspiracies and cover-ups ever written. It explores all major events, organizations and renowned figures, revealing startling information and facts you never new before, including those that the establishment would never want you to know and is afraid you might want to know. Whether it's the unknown facts about the death of Princess Diana or the issues and intrigues behind the Lockerbie bombing, the riveting details about the biggest conspiracies have never been presented so well in any other published work available. The book is entertainingly presented, thoroughly researched and closely documented, providing each potential cover-up with a plausibility rating. In other words everything you've wanted to know about major cover-ups is all here.